A few weeks ago, my girlfriends took me to lunch for my birthday at this great little place with an outdoor patio. The patio has a fountain and an outdoor fireplace and oil cloth tablecloths. We have been going there for years to celebrate our birthdays. We always order the Caprese sandwich on Kalamata Olive bread with Rasberry Vinagarette. So delicious. We finish off the meal by "surprising" each other with a piece of very rich chocolate cake with a scoop of vanilla ice cream and a glowing candle. It is always lovely.
My birthday is actually this week so I will share with you the two gifts I received that day from my friends. The first was very tangible and practical and something I had really been wanting. My friend Heather pays attention that way. It was a nursing cover I had seen some of the other moms using. It is a Lait De Taule by Milky Juggs. Heather said NOT to google Milky Juggs. It was not a good experience for her. Rather, you can go direct to
http://www.milky-juggs.com/
.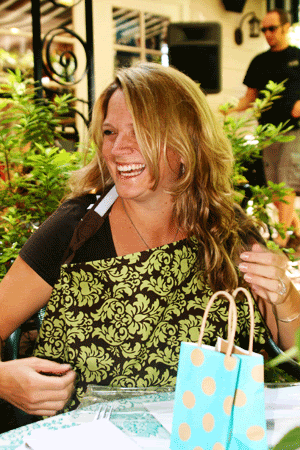 I obviously think something is hilarious here. I could have been the joy of recieving this gift or the fact that the small band playing on the patio thought my name was Brianna and was singing Bri-annnnnn-aaaaa to the song Rhianna for my birthday. Crazy stufff- I don't know!
Anyway, I loved the colors- they are so me- and it is lightweight with boning around the top so you can see the baby. Most fabulous to use I must say.
I just discovered that one of the lovely ladies who follows my blog also makes nursing covers. Hers are called
The Feeding Frock
and they cover you all the way around the back.
The second gift I recieved that day was not tangible, but will last much longer than my milky juggs cover. When the meal was finished, each of my friends took turns speaking words of encouragement over me. They spoke to me of who they know me to be, things I had done for them in the past that I had forgotten, what they see me doing. There were some tears and laughs, but the words were from their hearts and spoken with such love that I was overwhelmed.
It is so encouraging to be seen...
to be known
and to be loved.
I bring this up not to brag about what great friends I have, although I do, and not to float my own boat because there are certainly negative things that could have been said, but rather to bring to mind the idea of speaking words of encouragement over others.
Words are so powerful and people need to hear them.
When we see something in someone, let us affirm them in it. Whether it be our children, our husbands or wives, our parents or siblings, our friends, acquaintances or even the clerk at the supermarket.
Everyone could use some enCOURAGEment.