The other day I mentioned my firm purpose of turning this belly of mine into a flat belly via the

The funny thing is that I had never heard of the diet before I was walking through the grocery store with my sister and she pointed out the title of the book.

It appealed to me because since Little Bear was born 9 months ago, I have not been able to get my belly back. The next time I was at the store, I put the book in my cart.
Turns out, this diet is pretty popular. You guys know people who this diet has worked for.
It was featured on Rachel Ray and also on Good Morning America.
The book was written by the editors of Prevention magazine, which is a publication I respect.
My twenty year reunion is this year and I really would love to lose 20 for my 20.
I knew that I would need some type of eating program to follow because I just don't do good on my own. The working out part is not the hard part for me, especially now that they have machines I can work out on that are hooked up to TV's.
I am on my fifth day of this diet and I have to tell you that it is amazing.
I lost 5 pounds and 6 inches in the first four days which they call the
Four Day Anti-Bloat Jumpstart!
You get to eat four meals a day, and seriously, I wasn't hungry.
I am not going to totally sell you on this because I have not been on it long enough. But, so far so good. I'll tell you more about it when I have more results and experience with it.
For now, I will share a recipe for the water you get to drink during the first four days.
For those of you who don't like to drink water
I love water- I drink it all day long
, it might help you to get all the water you need.
The thing I like best about the water is it's name.
It is
SASSY WATER.
We have much fun with the name in our home.
Hottie Husband will say-
Are you getting sassy?
And I will reply-
Oh yeah! I am getting sasssssy!
So here is how you make Sassy Water. First find a ginger root. For those of you who are like me and previously had no idea what a ginger root looks like, here is a photo.

It certainly looks like a root.

You must peel the ginger root and grate a teaspoon to put in a pitcher.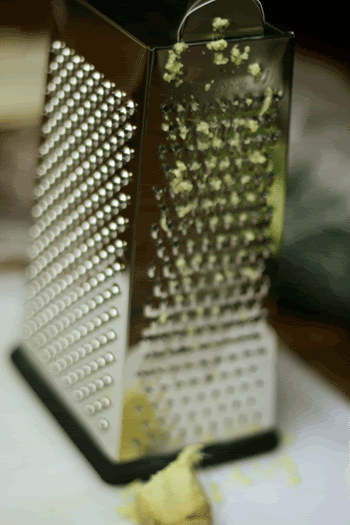 Then add one lemon, thinly sliced


12 mint leaves


and one medium cucumber, thinly sliced.


Once you have all the ingredients in the pitcher,
then add water.
Have I told you that in our new house, the water from our very red kitchen sink with a very gold fixture, has water from a very deep well that makes for great drinking water?
Well, it does.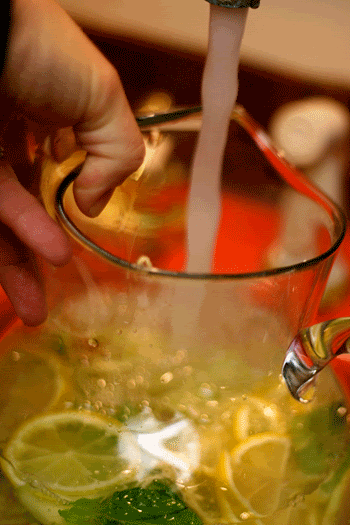 Combine all ingredients in a pitcher, chill overnight and let flavors blend.

Drink and Feel Sassy!