I had planned on writing a post of meaning and depth on this day of my big return to blogland. I had even written most of it and then, a mis-stroke of key and- POOF! - my meaningful, thought provoking post was deleted and blogger sweetly, quickly and automatically saved the newly nearly deleted version. Ahhhhh, technology!

Instead, you will get to hear about the great dilemma of our day which involves the deep subject of toilets and ice-fishermen.

This is what our lake
obviously I don't actually own it, but it sits outside every window of this sweet little house we are renting so it has now affectionately become our or maybe my lake ...
anyway... this is what my lake looked like a few weeks ago.
A mirror of beauty-

Breathtaking- yes???

In the last few weeks of days with below freezing temps and some spurts of below zero temps,

it has become this-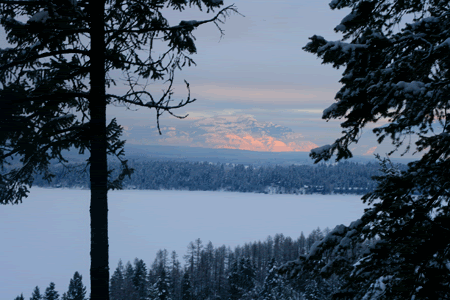 which has caused these surprising little creatures to pop up on my lake.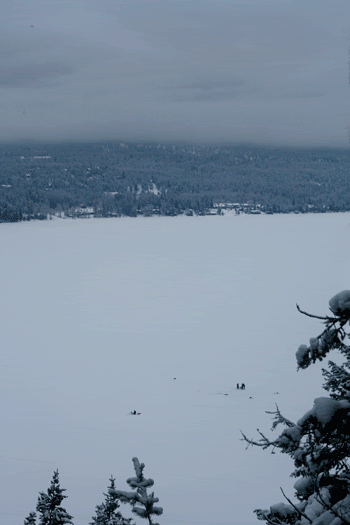 First- I was like- There are creatures on my lake!!!

What are they doing walking on the ice???

So I got out my handy dandy binoculars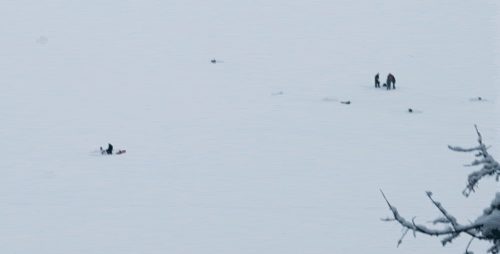 that they were indeed human
though I suspect decreased brain capacity due to their presence in small huts on the ice for hours on end
and were building little huts and drilling holes and sticking fishing poles in said holes to catch freezing cold fish!

Okay- I will poke no more fun at this silly sport, but as I hinted at earlier, their presence which continued into darkness as indicated by the lights I can still see out on the icy lake, caused us a small concern.

You see, all of our windows face the lake and that includes the bathroom windows.

Here is my toilet.

I know you have always dreamed of seeing a picture of my toilet so brace yourselves for the wonder of it-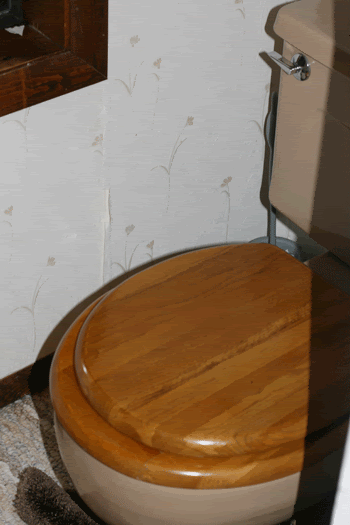 The funny thing about this house is that when you sit on the toilet, you sit right next to this

giant window.

It was odd at first for us, but we soon realized that all we faced was an empty lake and nobody could see us.

But, now these little fellers
they do look little don't they? I'm sure they are not this little in real life
have popped up on my lake with tents and drills and fishing poles and lights and patience that must never end.
I mean, who really could sit that long on a frozen lake in one place with a pole?

Oh, I forgot, I would make no more fun!

My apologies tiny little ice dwelling creatures.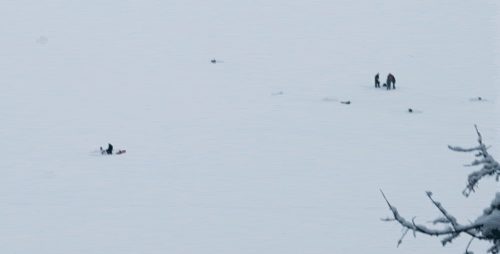 So.

Can they see us while we squat?

That is the question.

It feels like it when sitting there with the light on next to the huge window.

No real way to know.

I figure that they must be so focused on their little ice hole and trying to keep from freezing to death, that they won't have the time or inclination to spy back at me.

And if so, maybe it will add a little excitement to their sport.

Although, really, how could anything make ice fishing more exciting than it already is?