Remember when I was stalking other women's hair and trying to find a new stylist.
I finally tried one out.
I went to my appointment with some excitement and trepidation because I planned on changing things up a bit and I had never even met this stylist before.
I decided to go for it
and ask for the 2010 Grammy's Carrie Underwood style.
Before I left, I made a sad attempt to take a "before picture" of myself for you all.
No makeup, still in my jammies.
The lighting isn't that great because you can't see how long it is.
It comes down to the "O" in Canon on my camera strap.
Then I took this giant photo of Carried Underwood with me and handed it to Lacey.
She was a sweet native Montana girl who is 19 weeks pregnant.
She laughed easily and reminded me a little of my cousin Jessica.

She looked at the length and then chopped this off of the back of my hair...


leaving me looking like this for the time being.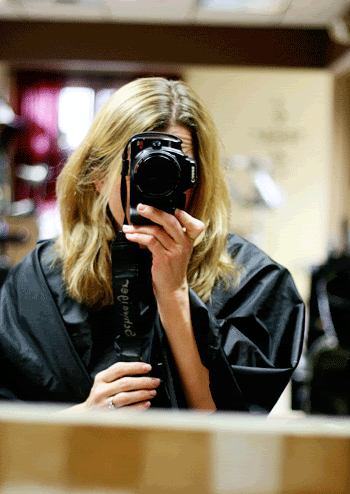 Then we went on to color, cut and style.
She kept saying, "You have so much hair."

We were having a good time laughing and telling stories and laughing that my mom was texting me pictures of the pile of dog toys her Chihuahua had made.

I was having a good time being a girl, but was just hoping that my hair was having a good time too.

When I left, I felt lighter.
Very blonde.
Not so sure about how blonde I suddenly was.
I like the natural look and this wasn't so natural.

I wanted to work out because HH still had the kids.
But, then my hair would get wrecked for my "after picture."

So, I tried for more self-portraits
in my car
in the parking lot of the gym
trying to make sure nobody was watching.


You can see my arms in my sunglasses.
They were not long enough for my 50mm lens.
I did get this out of focus shot of my puttin on my sexy with my
bright blonde new persona.

At home, Hottie Husband and I had only a few moments before he had to head out to a class.
He said he liked it.
He has been married long enough to know that he has to say that.
The boys were like - Mom, your hair is white and you cut it.
Yes, what do you think?
Shrug!
They are not well trained husbands yet!

I attempted more "after photos" with my little yahoos.
They like to take pictures.



silly pictures



I like to take silly pictures too,
but that doesn't help with you getting to see how my hair turned out.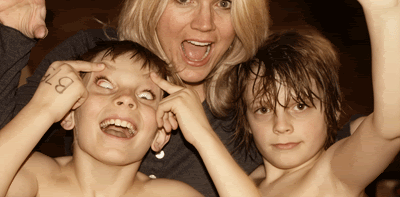 Then finally Toots
my budding photographer featured a few days ago
finally captured this one.