Toots has a new weapon in his arsenal.
It goes something like this. "Timmy wouldn't play wif me today so I am not inbiting him to my birday pawty." This cute masked man's 5th birthday is not for another few months, but oh how he is using the power of the birthday party invitation.
Every time that Mister Luke or Jackie Boy do something he doesn't like or if they won't let him use their things (ex. their new basketball shoes that are 5 sizes too big for him), he says, "Well, I am not inbiting you to my birday pawty." They laugh and say, "Toots, you have to, I am your brother. I will always be at your birthday parties."
Yesterday, he even pulled it on Mr. Baseball and I. I don't remember what it was, but we said "No" about something. His response was, "Well, I am not inbiting you to my birday pawty if you don't let me." Ummmm. Uh, huh! That will be interesting!
Then today, Mister Luke and Jackie Boy were discussing some boy that was at basketball camp with them who was pushing kids around. And Toots exclaimed (you guessed it), "Well, I am not inbiting him to my birday pawty." The boys in unison replied, "Toots,  you don't even know him." So in this case, Toots was right!
It is the most powerful thing a four year old can say to another four year old and it makes him feel like he is strong and has some control. But, it can also be very hurtful to another little kid so we have talked about that. He learned it from someone else saying it to him. 
Now that I think about it, I would be pretty hurt if one of my friends said to me, " I am not inbiting you to my birday pawty." I might laugh at her pronunciation first, but then I would be sad.
And if you are wondering why that muscular little guy is wearing a Speedo, I do have an explanation for you. Normally, we are a surfer type board short wearing family. But, Mister Luke is playing water polo and so needs Speedo Jammers so he can be FAST. Well, this detrimentally determined dastardly darn destructo diving dog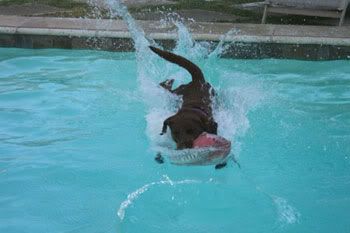 got a hold of Mister Luke's Speedos last night and tore them to shreds. She's not called Destructo Dog for nothing. 
Anyhoo, this meant that I had to go search SportingGoodStoreLand (oh, this is the place where you drive around to many different sporting goods stores looking for the Speedo Jammers that will fit your son) to find them. Well, we finally found some for Mister Luke, but we also found these cute little blue ones for Toots at an amazing price. Did you know that they normally cost around $37.00? I bet you can't even guess how much I paid for these babies. 
Two dollars and fifty cents! Oh, the glorious feeling of getting a fantabulous deal! 
So, he is quite delighted that they make him FAST in the pool because, you know, everything around here is about competition.
So, perhaps
now
he will  inbite me to his birday party! 
Who knows if I will be so lucky!