Yes, you read that right!
I am revealing the deep dark secret I have been hiding (that was for you
Foursons
).
It is the legendary Snickers Carmel Apple Salad.
Actually, this is my cousin's recipe and she reads this blog and I am now fearing that I have the name of the recipe wrong. It really doesn't matter because it is SOOOOO YUMMY!
Ingredients
8 Granny Smith Apples (cored, peeled and diced)
16 oz. of Cool Whip
5 oz. package of Vanilla JELL-O pudding
6 Snickers Bars
Thaw Cool Whip and mix with Vanilla Pudding. Take diced apples and fold into the Cool Whip mixture. Cut Snicker Bars into small pieces and stir into apple mixture. Sprinkle any left over chocolate on your cutting board onto mixture as a pretty garnish. You may also put carmel sauce on the top for added flair. Hottie Husband came up with that.
Have I ever told you that he won the cooking award in high school? At the same banquet, he also won MVP of the football team! You can imagine the razzing he got from his buddies.
And just because I am having so much fun with my camera, here are some photos.
It says Snickers on the other side.
Ummm, do you get what they mean?
I needed a little help from Hottie Husband.
It was late and I hadn't slept much.
Okay fine, I'll quit with the excuses, I just didn't get it.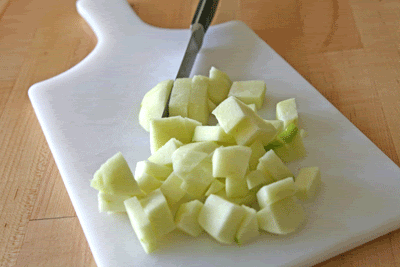 I usually put some lemon on the apples just to keep them from getting brown. Of course, this also works on bananas and avocados.
I sliced the Snicker bars like this and then cut these pieces in half.
I wish I could give you a bite right now!