This last weekend was a busy one here in Whitefish.
It was the Winter Carnival.
We have been hearing about the Winter Carnival since we got here, but really had no idea what to expect.
This is all new to us!
The kids were especially excited to go see the
POLAR PLUNGE!
All the kids at school had been talking about it.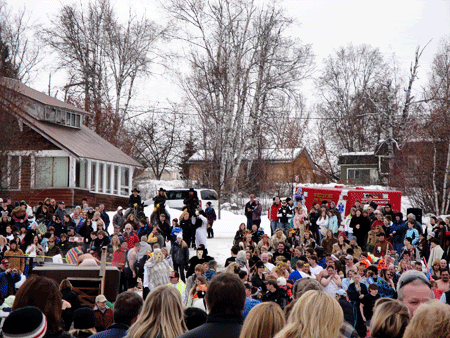 The cool thing about the event is that everyone
who takes the plunge into the icy water has to have sponsors.
It is a fundraiser for the Special Olympics!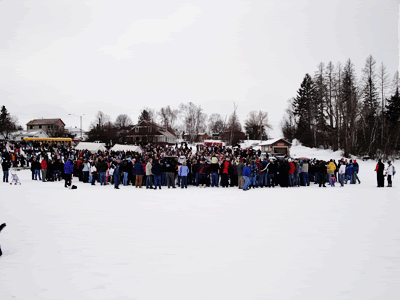 The shot above was taken while standing on frozen Whitefish Lake, looking back toward City Beach. Funny to think that come summer, we will be in our boat on this same spot.
Below you can see the Whitefish Fire Department about to take the plunge.
I love that they wore their helmets.
Hottie Husband decided to observe this year.
The boys are determined to do the plunge next year with him.
They wanted to do it this year, but I said that we needed to watch and see what the whole thing was all about first.
There was a hot tub waiting so when the plungers got out of the water, they were able to warm up their bodies right away.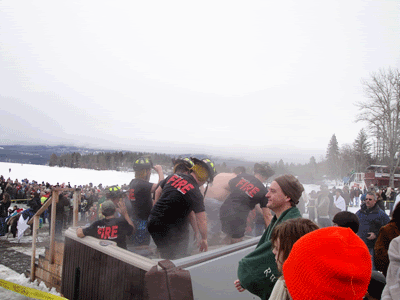 Some characters show up during Winter Carnival.
The very blonde lady was part of a group of ladies all dressed like her.
I found out later that she is one of the Viking Women.
I have no idea who the lady next to her is with the giant bow.
A kiss from the Viking Women is supposed to protect you from the Yeti's
who are supposed to be like a Bigfoot or something!
One of HH's friends was telling us that when he was little, he was terrified of the Yetis because they used to be really mean and scary, but now they just ride around on their quads.
Such silliness!
Little Bear refused to look at this big lug next to him!
The people really have a good time dressing up and it was fun to watch.
The announcer kept saying things like-
Everyone back up two feet, the ice is beginning to sink!
or
If you are not jumping, get off the dock, it is beginning to sink!
Here you can see how the ice is sinking.
These are the rescue divers standing by in case anyone needed help.
After the Polar Plunge, we headed over to the Fire Station so the boys could suit up for the
Winter Carnival Parade.
I don' t know why those dots are on my picture.
According to Whitefish lore, the Winter Carnival was created
to break up the winter doldrums.
It certainly does its job.
These people come out in force for this sweet little community parade.
Not too shabby for just moving into this town 3 months ago!
Riding and waving to all of the crowd!
Jackie Boy was excited.
Toots felt very official in his gear.
Mister Luke was being cool.
All in all, it was a lovely day...
...and it was certainly nice to feel like we are a part of this community!