Where did the time go?
Where does it always go?
Watching children grow is the best way to realize that time is passing
and quickly!
My Little Bear is 11 months old today.
Wasn't I just in the hospital with him?
Wasn't I just shocked to find out that he was a boy and not the girl I was convinced that he was?
Wasn't I just delighting in the newness of him- his fresh entrance into this world?
I think because I know that I won't be having anymore, I just really soak him in.
I mean -
look at this little back, and those shoulders and ears and neck and edible feet.
Kiss, kiss, kisses everywhere!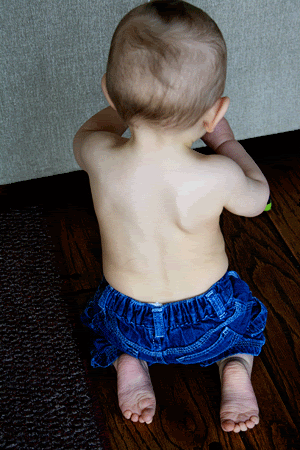 And then these eyes just light up my world.
Okay kiddo- no more growing, just stay right here for a while and let me get enough of your sweet babyhood.
I seriously wake up every day and look at my children and say-
I am so blessed, I am so blessed, I am so blessed.
Yes- even when I am saying-
they are making me crazy, they are making me crazy, they are making me crazy
I realize how blessed I am.
Actually, Little Bear is still delightful all the time.
But, I know that 18 months will come soon and so will that natural need for independence.
So, again I want to keep him where he is right now
for a little while anyway
because he is at that perfect age of wanting to explore, but not independent enough to be in trouble.
Speaking of trouble...
I asked Hottie Husband if he had read my post about his skiing adventures and he said-
Yeah! It was good, but you could have picked a better peak to post.
He didn't think the picture I showed of where he wants to take his new back country skiing gear was... ummm... accurate.
So, here you go baby! Here is HH with the peaks in the distance that he plans to explore!
Here he is pictured safely on the resort slopes with us!
I know that this has nothing to do with my post today, but I just have to say that I LOVED Sandra Bullock's dress last night.
Someday, I want to go to some event where I get to wear a dress like that!
Did you have a favorite?