I have a new centerpiece idea.
I like to call it-
Decor a la socks
I know- you need to see it a little clearer to understand the full detail of the piece...
to truly understand how to make one of your own.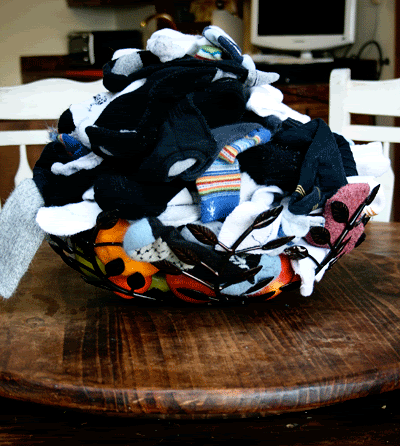 Impressed?
I thought so.
To make one of your own,
simply take six human beings living in cold country,
who go out in snow and mud which sometimes makes it way through shoes.
Make sure these people also
participate in an active lifestyle including skiing, wrestling, and working out in order to multiply the amount of socks necessary for daily life.
When doing the laundry,
simply take said socks from the clean clothes and toss them into a
large fruit bowl.
Place bowl at center of your table and enjoy the morning ritual of watching family members try to locate socks for their day.
What was that?
You say, you think I am the next Martha Stewart in the making?