Hottie Husband came home a few days ago and handed me something-
Here, I got you this!
And one for me too.
I looked up from what I was writing on the computer and had this in my hand.
And why will I be needing this?
So we can go hiking in Glacier and protect ourselves.
He thought about getting a gun. A lot of people carry them here. After all, we are in Montana now. But, we agreed the danger to the kids messing with it was probably worse than the threat of a bear attack on a hike.
Still, to be holding this product in my hand was a little..... ummm...... disconcerting.
They said this is the best one, it even has a little carrying case.
Like its a Coach bag or something. Sorry honey but that kind of bag just doesn't do it for me.
I looked closer at the label.
Not for use on humans... to deter bears from attacking humans... and my personal favorite...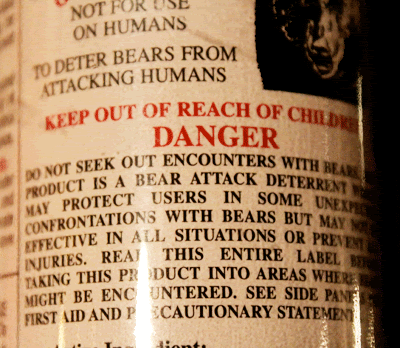 do not seek out encounters with bears!
Oh, thank you, that sounds like very sage advice Mister Bear Deterrent Spray Bottle.