So, we have finally come to my final post on our Spring Break.
But, it wouldn't be complete without showing you how loved we are.
Here is the family that showed up for the celebration we had for Little Bear's first birthday at Grandma Betty's house.
In this photo, my boys have three grandparents and three great-grandparents along with some amazing aunts, uncles and cousins.
More were actually coming but there were emergency appendectomies and babies on the way.
Little Bear got to open presents for his birthday.
I actually put this one in just for those legs.
We visited three baseball fields and ran into friends we have missed
and were able to see these cute amazing baseball players working as umpires.
These are my nephews.
They are twins.
I was in the room when they were born three months before my wedding.
Love these boys.
We again enjoyed the lovely bed and breakfast that is my mother's house.
She graciously tolerated the massive amount of stuff that accompanies a family of six
and took great care of us.
Little Bear ate Fauna Kuken (German Pancakes) for the first time.
He ate the whole plateful.
Mom says I can share this recipe on my blog so you have something very yummy to look forward to.
We had the joy of spending Easter with our church family who we dearly miss and then heading over to my sister's for Easter Dinner.
The day was filled with a delicious meal, a massive Easter Egg hunt meant for 50 children (only three hunted), and sharing of eggs with cute little dogs.
Little Bear practiced his steps.
I forgot to tell you that he took his first steps in Hawaii.
And loved up on Great-Grandma Betty.
It was a quick few days home, but the hugs I got from these pretty ladies should sustain me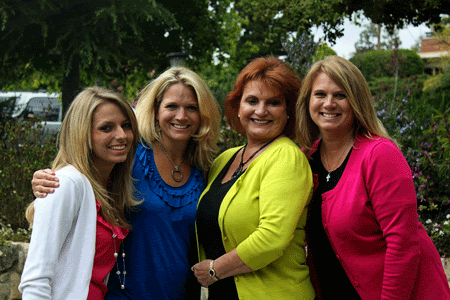 until we head back for my reunion at the end of May.