Molokini is a small crater shaped island off the coast of Maui.
The kids had really been enjoying the snorkeling so we decided to invest in a boat trip out to visit the underwater life in
its' midst.
We boarded The Four Winds II which came highly recommended as the best company to do the Molokini trip with.
They had all the snorkeling gear ready.
The staff was great.
We felt prepared with towels, and snacks for Little Bear and doses for Dramamine for everyone.
We try to avoid throw up whenever we can.
Side story- When we gave the Dramamine to the kids in the car, we had only one water bottle. The first child we gave it to backwashed their entire pill back into the water bottle. We all got an extra little dose.
We excitedly boarded the boat and then heard the news.
We would not be going to Molokini.
The winds were blowing too hard.
You can't really tell in this picture.
But, look at what the wind can do with my hair in this one!
So instead they took us to Coral Cove.
We could have driven there from our hotel and hiked down the hill.
But, then we wouldn't have had the fun boat ride, the barbecue lunch, the glass bottom to peer through and the slide.
That's what I told Hottie Husband anyway when he mentioned it.
Cute, cute, cute boyz getting ready to snorkel.
I was really impressed with the adventurous nature of them all.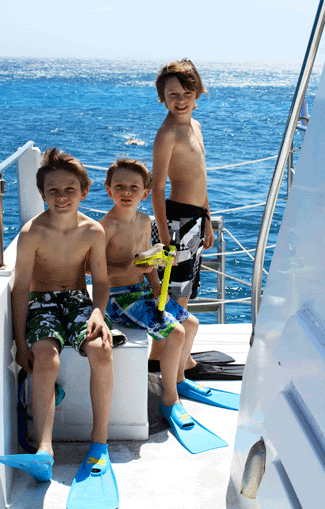 Little Bear and I headed under the sea to the glass bottom to observe.
We had a great time under there and nobody threw up.
It must have been that tiny extra dose I got.
We observed these interesting sea creatures.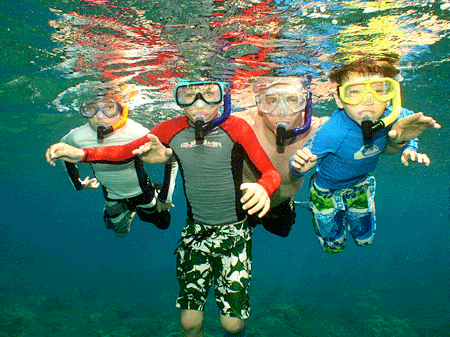 Then HH came back and let me take a turn.
Mister Luke was happy to go back out with me.
And show me all the sea life he had discovered.
This one was the most interesting.
To me anyway!!!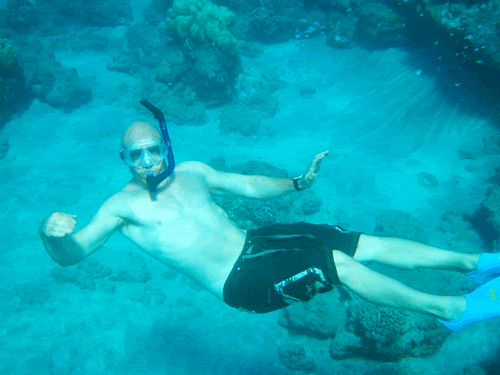 Just kidding!
You know he was in the boat with Little Bear.
But, I am glad the kids snapped this photo so I could at least feel like I got to go with him.
Then we headed back to the boat.
The boys and I all agreed that a trip back to Maui is in order because we
just have to
see Molokini someday!