Meet Grandpa (my daddy)and Nanny (his sweet wife)!
She is the one driving the truck to take these very excited boys up the crick
creek or stream for you Californians
so they can float down on this tractor tube.
He's the handsome one with his foot up on the back bumper.
We just got back from a week long trip to their ranch in South Dakota and a family reunion.
It was all Nanny's idea to let these boys go down the crick. She made sure the tube was ready, had Grandpa patch it up, and tied the rope on for them.
She is a born and raised rancher. A for real Pioneer Woman if I ever saw one.
She once chased hunters or poachers off her property in her pick up, ran them off the road and took their guns from them.
Kind, fun, a true friend, hostess to the core, and a tough lady.
That's Nanny.
These boys love her and she has taken them in like her own.
Here they go!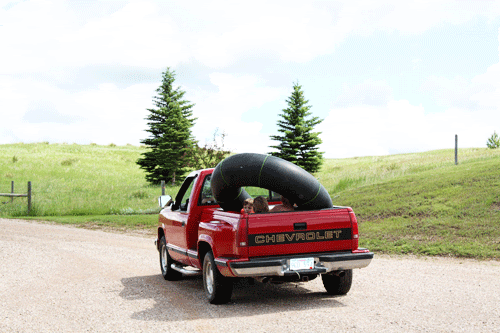 And here are my two favorite grown men in the world, waiting for those boys to come floating down.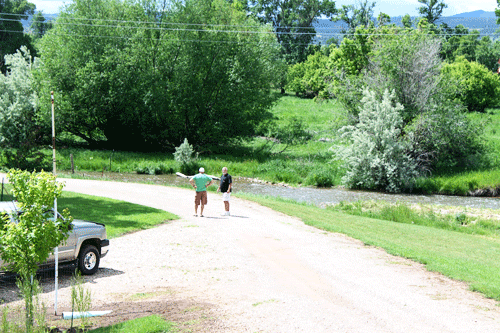 Here they come around the bend. All still alive and in tact.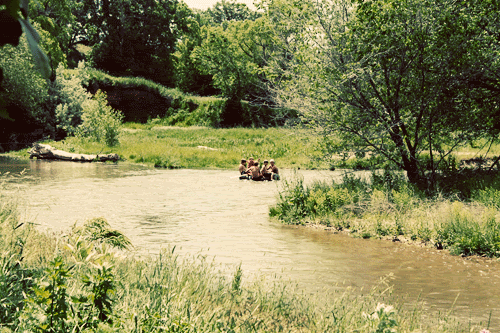 Hottie Husband is lifting up the barbed wire which I found out is called a water gap.
I think it keeps the cattle where they are supposed to be or something.
Yes, lets not cut our necks while we are having so much fun!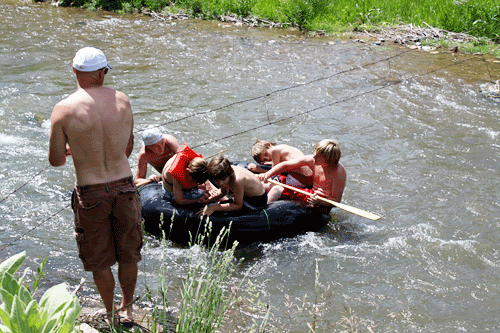 In this one, you can see Nanny running to meet the boys at the other end of the property.
See the boys on the left, under the tree.
This whole stretch of the crick in on their property.
And they all arrive safely.
Nanny and the girls (me, my sister and niece) also went for a ride on the tube and each took turns falling in. It was hilarious and a blast.
They also have quads, motorcycles, longhorns, horses that graze on the ranch (these belong to Nanny's other very talented rodeoing grand kids who win pick-ups and trailers and drop in at the ranch when they can).
Grandpa even took time to get this little guy to giggle.
The ranch is a place of many adventures, but Grandpa and Nanny keep a spick and span house
they are both very hard workers
so there is this nice bucket outside to rinse your feet in.
But, Jackie Boy thought his whole self needed a good rinse so he climbed right in.