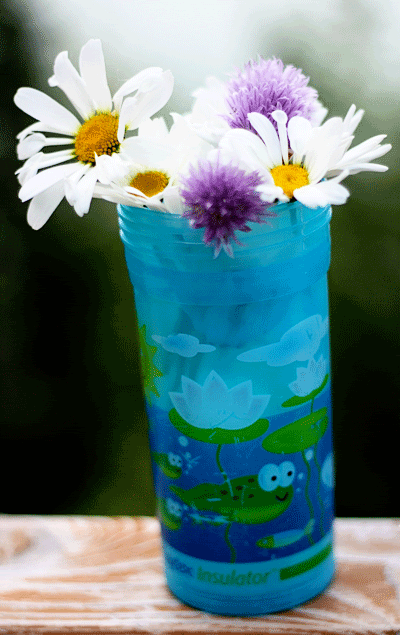 The boys all left for baseball practice a few hours ago,
leaving Little Bear and I to hang on our own.
Before they left, I went outside to make them hug me because I hadn't gotten a hug from any of them all day and was feeling lonesome for one. While hugging me, we discovered that the two oldest can now lift me off the ground and that Toots was wearing my socks to practice and they actually fit just fine.
A few days ago, I also discovered that I can wear Jackie Boy's flip flops.
My boys are growing.
Soon, I will be gazing up to meet their eyes.
When I walked back into the house, I noticed a lovely bouquet on my table.
Freshly picked flowers had found their new home in a sippy cup filled with water.
I smiled.
Sometimes I feel like they need me, but don't necessarily notice me.
This is fine because I am their mother and I don't need them to notice me.
I have a husband for that.
But, when I saw this sweet bouquet I realized that they do know me.
You see, I love fresh cut flowers in vases around my home.
Usually, in California, I would have my iceberg roses, my Barbra Streisand roses
yes, she has a rose named after her,
my blue and white hydrangeas, my crepe myrtle, and my various annuals to pick from.
And they would be in vases.
In the entry. In my kitchen. In my bathroom. On the family table.
But, at our home here, I haven't done any planting.
There must be wild things growing out there, maybe planted by a prior resident at some point.
And MY boys.
My wild boys went out and picked them.
And without a word to me, put them in a vase and set them on the table for me to find.
I felt like I found a treasure.
A treasure that smells like onion because those purple beauties are chives.
But, I love the smell of onions.
Especially today!