Sorry I have been gone so long.
I didn't mean to be.
It is just that after the family reunion, my sister and brother-in-law were here with their amazing kids and then we had loads of All-Star baseball and then my computer broke.
And then the weather warmed up and the boat was fixed and well...
it has been lovely here.
But, now thanks to Apple, my computer has a brand new $1000.00 part that they replaced at no charge. Hooray for Mac! And it is running like a dream.
So, here I am back again with some pics from my family reunion.
My dad is one of seven and they grew up in the tiniest little house on a farm in South Dakota.
They were one of the last families to get electricity and they tell stories of snow blowing through the windows on top of their blankets on cold winter nights.
The great thing about my dad's family is that all those brothers and sister still love and care for each other. There have been no lingering rifts or fights and when we are together, it is like no time has passed.
It is such a gift.
We had plenty of fun too.
We had a golf scramble.
This is when you all hit from the best hit ball each time for your team.
This was very good for me because I hadn't golfed FOR-EV-ER and stank!
But, Jackie Boy was on my team and we loved being able to drive the golf cart.
I had never golfed on a course that needed an actual golf cart before.
We did summery things like eat watermelon.
This was Little Bear's first time and he loved it.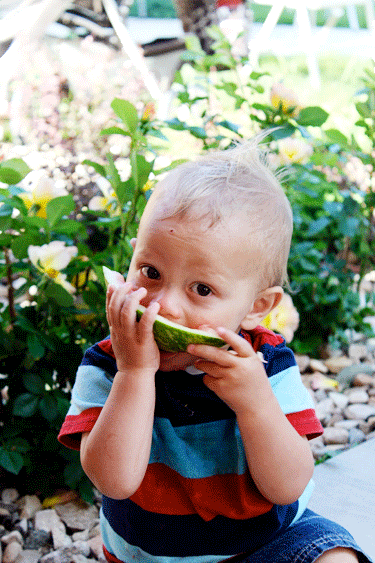 My niece got to hang out with some horses
and the kids even got to feed them.
We played horseshoes
and enjoyed hanging out with all of our
cousins.
My boys love my very cool youngest cousins who I can still picture as little boys.
Those two cute guys sitting on the left who are now married and starting families of their own.
We ate A LOT of good food
and sang karaoke with Grandpa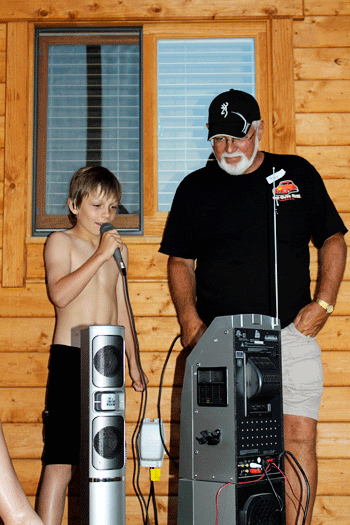 and picnicked in the loft of our cabin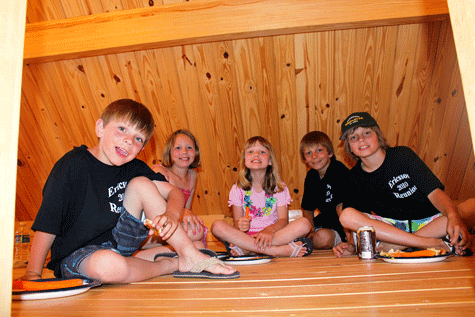 and took endless family photos in our cool new reunion t-shirts.
Can you tell that we are all of Scandinavian descent???
The best part is that my kids got know my cousins and aunts and uncles like I do.
And that was just a gift in and of itself.