I have always wanted to learn to fly fish.
Well, maybe not always.
Maybe it all started just like everyone else when we first saw Brad Pitt in his waders, knee deep in the river, sunlight reflecting off the river, whipping his line in fluid motion in
A River Runs Through It.
Yes, that is probably where it started...
but it has stayed with me.
However, I don't want to learn just yet.
Even though we are now living in Montana, where that iconic movie was set and even though rivers and lakes and fly shops abound.
No, I don't want to learn just yet because I picture myself older, in my waders in the river and I hear the quiet whip of the line and nothing else.
I just can't mesh that picture with my current life. With the boys the ages they are.
Things like baby poo overflowing out of the back of a diaper as I pull him out of the cart in Walmart and feeling it slide down my arm and land in a big plop on top of my cute leather sandals.
Or putting a stop to wrestling matches that suddenly erupt in my car due to the sighting of "punchbuggies."
No, I want to wait until they can all safely join me in the river, take care of their own line and know to be quiet without my telling them.
But, Mister Luke and Jackie boy along with my nephews did get a fly fishing lesson when we were at my dad's place in South Dakota.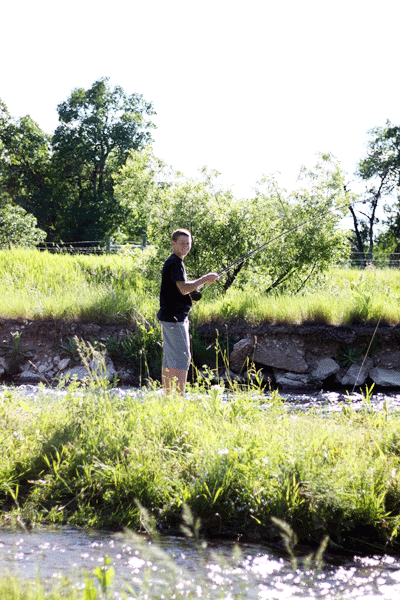 This boy loves fishing and I am sure he will be the first to take me out and teach me someday.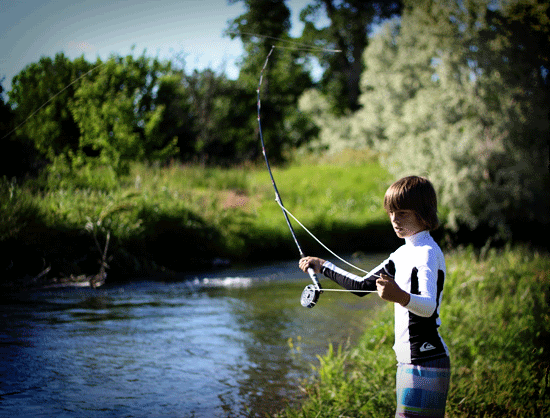 Doesn't it just feel like this picture should be in black and white?
Jackie Boy loved it too
and my cousin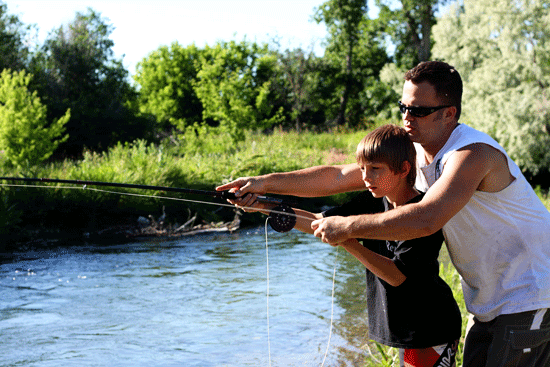 was so patient teaching all the boys the basics of fly fishing.
He is a very cool guy.
Yes, cool is one of the best words to describe him...
so I captured him looking very cool in this photo.
I told him the boys would never forget that he was the one who took the time to teach them to fly fish in their Grandpa's creek.
And someday when we are all out in the river in our waders, waiting for that perfect catch, I might whisper to them...
do you remember when you first learned to fly fish?