One of the things you just have to do when in Northwest Montana is take the famed drive on Going to the Sun Road in Glacier National Park.
That's what everyone kept telling us anyway!
A few weeks ago, we drugged everyone with Dramamine so as to avoid the puking disaster akin to our Road to Hana trip, and ventured out to see what it was all about.
It is breathtaking!
Waterfalls abound.
They fall so near your car that the spray can be felt with the windows open.
I love how this one looks like steps.
Do you see how the road crosses the waterfall?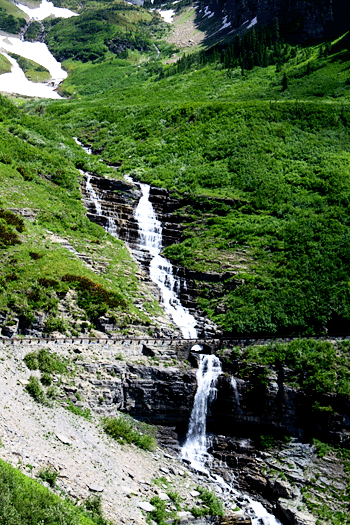 And look at this one.
The distance of the waterfall's path is incredible.
This is another common sight on the road.
It is a Red Jammer Tour Bus.
We didn't want to torture them with baby squeals and endless questions so we reserved that pleasure just for ourselves in our own handy Suburban.
Here we are after making it to Logan Pass and hiking a still very snowy trail to Hidden Lake.
It is just indescribable.
I wonder how much fun God had making this place.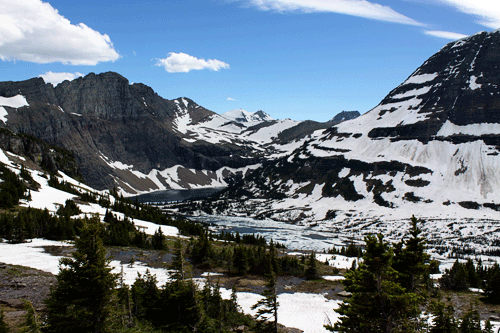 Mountain Goats like to hang out up at Logan Pass!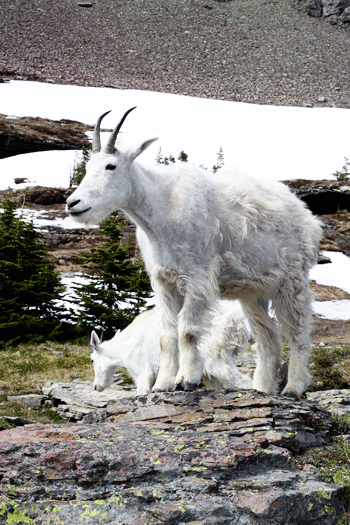 What are these three yahoos looking at???
The yellow flowers and the green grasses and the white snow with the blue sky were nearly too much for me.
Pictures just don't do it justice.
We were privileged to see this fellow on our way out.
We couldn't help but think of Uncle Randy whose initials are RAM!
And we even saw a small black bear in the distance romping around in the grass.
But really, this was one of my favorite sights.
It is called the Weeping Wall because the water seems to flow directly from the wall.
And that face that Jackie Boy is making is quite a sight too!