I have to tell you about one of the great places my mom and I visited while she was here.

First, I must confess that I am not much of a seamstress and I have never knitted or crocheted.
Unless you count the long chains I used to make next to my mother when I was little.
However, my mother has always crocheted and knitted and I recall her also doing macrame.

I had heard about a yarn store in Kalispell and thought she might enjoy it.
It is called Camus Creek.
What I didn't realize was how much I would love it.
First, the building interior and exterior are lovely.
I loved the flowers, so wild and coordinated at the same time.
Then, I walked in and saw all this color and was in heaven.
I mean, I know it is just yarn, but my goodness-
what a fabulous display!

Just look at the ceiling and light fixtures too.

The textures and colors and these adorable twisted pieces of fabric were so fun to touch.



These were ribbons that apparently can be weaved through scarves or ponchos or
whatever really crafty people can make.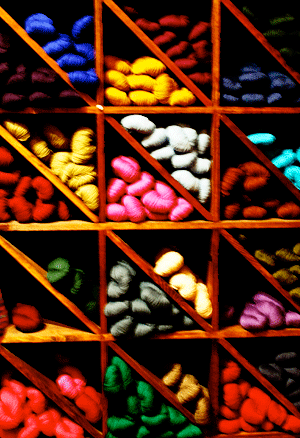 I just kept looking at all the options and wondering at the beauty of such a basic thing.
A basic thing that many people know how to make into very functional things- like blankets, hats, mittens, sweaters, ponchos...



Then, they have this wooden machine (I'm sure it has a name) that takes the little twisted pieces you select and winds it up into a ball of yarn for you to take home.



My mother and I were kind of in awe of the whole place.
So, then I became inspired.
Inspired to go against my non-crafting ways and take advantage of her teaching skills available to me.

We bought some yarn.
I selected a bulky, soft, sort of knotty yarn and told my mom that I wanted it loose and comfy.
So, we bought a big crochet hook too.
And I started this.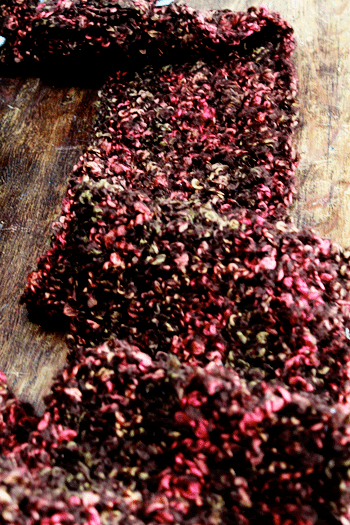 And she was slightly irritated that the yarn was so bulky that she couldn't see the pattern.
And I was slightly relieved because this meant she wouldn't be able to see my mistakes and rip it all out.
The funny thing is- I actually like doing it!