I recently got myself a little something...
Well, she didn't actually do any persuading, she just showed a picture of hers and put up a link to
Lisa Leonard
.
So, now here I am just showing you mine.
Because when you find something great you just have to share it.
I love the tree, the branches, the idea of growth.
I love that it represents the future generations of these four little men in our home.
Speaking of generations, we just had a visit from Hottie Husband's grandparents.
Here are the boys with their great-grandparents.
These little boys have no stinking clue how blessed they are to have two generations of grandparents to love up on them.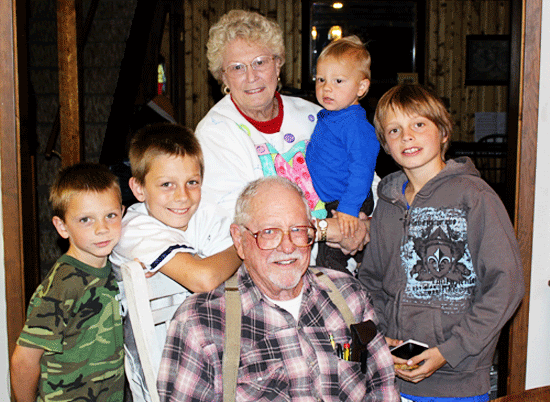 I have known them since I was seventeen.
Papa Don always has a pocketful of his tools and all my boys as babies loved to explore it.
Grandma Dody crocheted each of the boys a Christmas stocking with their names on it.
I love hanging them up each year.
They have friends wherever they go, love to play card games and used to have the very best Christmas parties. Their house would be full of everyone they knew and then we would all gather in the living room and the whole group would sing Christmas carols together.
I feel pretty blessed myself to have them.
When I think of generations, I think of our sons, their future wives and children and what a party with all of them and their offspring will someday look like.
I can't help but imagine a very full house.