When I woke up this morning,
THIS is what my mother was making for breakfast with Mister Luke's help.
Red Velvet Pancakes with Cream Cheese Frosting.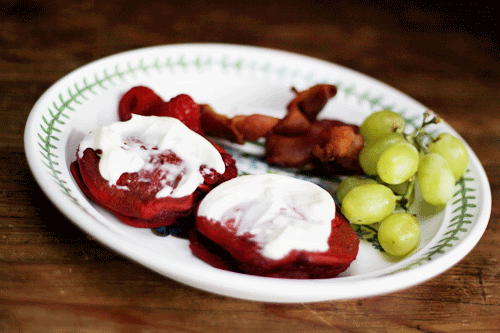 Ours had chocolate chips too...
so it was really more like dessert than breakfast but we won't talk about that.
We'll just delight in how yummy they were.
Here is the recipe if you want to try them out for yourself.
MOM'S RED VELVET PANCAKES
1 1/2 cups prepared pancake batter (not complete mix)
2 eggs
3 tbsp melted salted butter
2 tbsp canola oil
1/2 cup water (or add until a thick consistency- you may need more)
2 cups red velvet cake mix
Cream Cheese Frosting
16 oz. cream cheese
1/2 tsp. lemon juice
2 cups confectioners sugar
1/2 cup softened butter
1 tsp vanilla
Combine eggs, butter and water. Beat with a whisk until liquid is well combined. Add red velvet mix and pancake batter. Mix with a whisk until combined. Do not over beat (batter should be lumpy). Set batter aside for 20-30 minutes before cooking. Drop about 2 oz. of batter on a hot, greased griddle. Cook until bubbly, a little dry around the edges, and lightly browned on the bottom; turn and brown the other side. Do not pat down pancakes or they will flatten.
Enjoy!