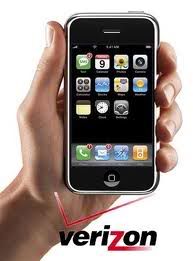 I'm feeling very spoiled.
Verizon finally got the iPhone and guess what?
So did I.
I am not a huge spender, so I cringed a bit and himmed and hawwed and wished and washed and asked HH over and over if it was REALLY okay before I took the plunge.
He said yes, yes, it's fine, with only a tinge of jealousy.
He loves the iPhone and gave his up when we moved because we switched to Verizon for the service. The Droid is just not the same.
It's my first smart phone and I had no idea what I was missing, especially since I am such the little social networker.
Oh, the email and Facebook and Twitter and cute texting bubbles and camera and apps are just sending me into jubilant techy bliss.
Plus, I've been let into a special CLUB they don't tell you about.
When we left the Verizon store, we drove straight to the Starbucks window to order my Skinny Cinnamon Dolce Latte and HH's simple Nonfat Latte.
I was playing with my new toy and the barrista stuck his head out
the drive-up window and said- You must not be from here.
I said- Why?
The iPhone.
Oh that. I just bought it across the street.
You'd think I told him I just won the lottery and was willing to split it with him.
He leaned in closer to the car and gave me very specific instructions about which apps I HAD to get for my iPhone and joy shone like he was talking about his baby.
At this point, I still didn't have full comprehension of what an app was. I'd heard the term before, but it would be hours later when I finally had my app epiphany.
Whoaaaaaaaaa Nelly!
It's a whole new world....
Can you hear the song playing?
Then my sis-in-law hooked up with me on Word with Friends and we played a Scrabbalicious game with each other, hundreds of miles away.
Oh, the connections.
I hopped onto Facebook and asked a simple question- Any app recommendations?
The responses, VERY detailed and loving responses poured in.
There is no end to the love for apps.
I feel like I've been let into a club and given a pass to the VIP room.
Spoiled, I tell you!
Oh, and it actually makes phone calls too.
Sephora Giveaway winner announced tomorrow. Hooray!