I have always had an interest in photography. When having professional pictures taken of myself or my children, I must be an annoying client because I am always saying, "oooh, could we do this? or wouldn't it be cool to...?" I like the vision of what can be captured so much that I don't just relax and let them do their job.
So, over the past months, I have decided that I am going to learn how to do it myself so as to put professional photographers out of their misery when dealing with me. A student at heart, I have been doing some late night studying about light, lenses, angles, and composition. I read and read and read articles on the internet and then I play and practice and torture my children and husband. But, it is OH SO FUN!
One of the coolest things for a mother with many loud and boisterous children like me has been Photoshop. This is a tricky program when you have no idea what you are doing. But, as soon as you learn a few things, just let me tell you girlfriend, it is like a playground of pure delight.
Now, picture the coolest playground you could possibly enter. It has the most amazing slides and swings and it is colorful and artsy and innovative. That is Photoshop for me. Now picture that same playground with electricity- lights that add bling and flash to the equipment along with power that makes it spin and dance. That is Photoshop with Action Sets.
I first read about Action Sets on Pioneer Woman's website, where she offers her
free PW Action Sets
. Oh Ree, I just love you for these. She has my enduring adoration just for these gifts. Other sites sell action sets too. But, why buy them when you can get them for free? The idea of an action set is that it takes multiple steps of Photoshop and puts them into a set to save time- you click the button and voila- you get the desired effect. And if you mess up, she has one called, "Start All Over!" Love it.
Here is an example of the same picture of Toots
using different actions.
This is the straight out of the camera shot.
Not bad, but just look what can be done.
I just love the possibilities.
Here is the same shot with the actions- Boost and Quick Edge Burn
Here it is with Boost and Bring Out the Eyes.
Take a look at the eyes. They are a little overdone on purpose.
I wanted you to be able to see the difference.
I would tone it down to look a little more natural if I were to print it.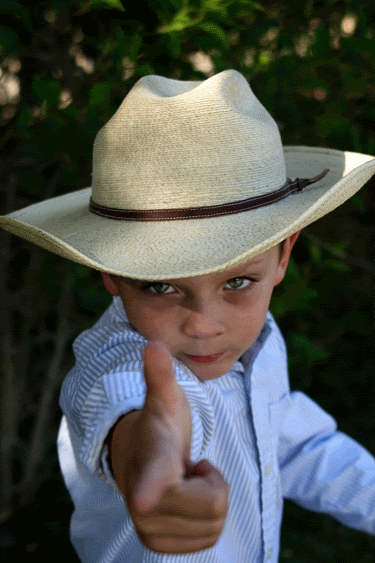 This one is PW Black and White
This one is called Heartland and I think it goes well with the cowboy photo.
But, this is my favorite. It is called Sunshine.
I love the softness of it and what it does with the light.
Off to discover more possibilites in my playground.