When I was in second grade, I looked across the room and saw a little girl with blonde curls and a pretty face.
I knew instantly that we would be friends.
Have you ever done that?
Seen someone and known at first sight that you would be lifelong friends.
I tell you this because my pretty friend with the blonde curls from second grade is still my friend, but now we communicate mostly through Facebook
because she married a handsome Canadian and is now living even further North than I am
and she mentioned making butternut squash soup the other day.
I immediately wrote to her and asked for the recipe because Butternut Squash Soup is one of my favorite soups.
It was absolutely de-lish!
I excitedly went to the market in sub-zero temperatures and picked out this beauty.
I sliced it in half like so
scooped out the seeds, and baked it in the oven face down at 350 for about an hour.
Aren't they just pretty?
I mean, they are curvy little ladies, aren't they?
Uh oh, after baking I dented this one's rear end.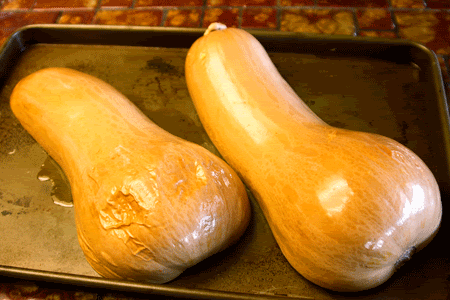 My goodness, isn't this just mouth watering.
Yummy baked squash.
My house smelled so good that it almost made the cold outside bearable.
Then I went and scooped out all the goods for my soup, taking little tastes like I usually do with cookie dough.
I looked at these deflated skins and said,
sorry I deflated all your lovely curves, but it was for a good purpose!
Saute a chopped onion in olive oil, add the squash,
four cups of water, salt, pepper and nutmeg
and 5 cubes of bullion
(except these were XL cubes so I only did 2 1/2)
bring to a boil and then cook for 30 minutes or until the squash is soft
It will look lumpy like this.
But the lumps are what this baby is for.
Blend on high in a few batches until it is nice and smooth.
I kept thinking it looked a lot like the baby food I have been feeding Little Bear.
Then, once you put the squash mixture back into the pot,
add the cream
simply because cream just makes everything better and it is probably the reason that this is one of my favorite soups.
And serve in a pretty Christmas bowl garnished with parsley and a little pepper.
Fresh parsley would have looked better, but I only had dried so that is that.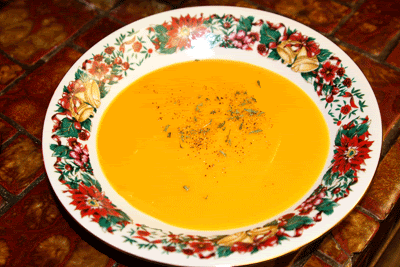 Oh, how I loooove this soup.
Okay, so here is my dear friend Heidi's recipe for your enjoyment.
Everyone say-
Thank you Heidi!
Butternut Squash Soup
Butternut Squash- 4 baby butternut or 1 large (about 6 cups)
Chicken Bouillon- 5 cubes (unsalted) or single packages
1 medium onion
1 tbsp olive oil
1/2 cup cream
4 cups water
salt
pepper
nutmeg (optional)- I put in about a half a teaspoon
parsley to garnish
1. Wash and cut the squash in half.
2. Roast the squash, cut side down on a sheet in the oven for about 45 minutes at 350 degrees. Then scoop out the prepared squash.
3. In a large saucepan, saute the chopped onion in the olive oil until tender. Add squash, water, bouillon, nutmeg, salt and pepper.
4. Bring to a boil and cook for 30 minutes or until squash is tender.
5. Puree squash mixture in a blender in batches until smooth and return to saucepan.
6. Before serving, add cream and heat through. Do not allow to boil.
7. Garnish with parsley and serve.
The amounts of cream and water can be adjusted to fit your liking of texture,richness, and thickness of the soup. You may also substitute milk for cream if you feel a desperate need to be healthy. Please do try to restrain yourself though.
Enjoy!