When we first got here a few weeks ago, the temperatures would go up and down between the 20s and 30s and sometimes even make it up into the 40s.
We thought- Wow! It just doesn't feel that cold. This isn't as bad as we thought it would be. The humidity is so low that it feels like it does when it is in the 50s and 60s at home. We are not wimpy Californians... we can handle this!
Well, we were in for a little surprise this weekend when this dry cold front came in. We are in the coldest state in the US right now and it feels like it. This picture was taken at 9am on our deck.
When I drove the boys to school, my car thermometer said it was -6 degrees.
That was negative six for those of you needing longer arms.
NEGATIVE SIX DEGREES!
I mean, I never even thought about living in the negatives before.
The air was so cold that there was steam coming off of the frigid lake.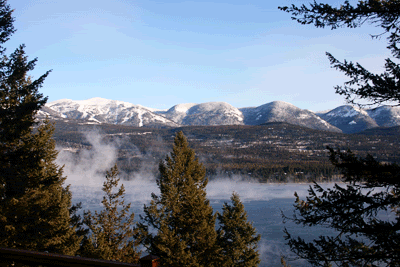 So this is what the boys dressed in for school this morning.
They thought it was the greatest thing ever.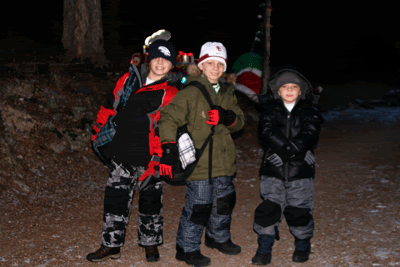 They kept trying to go outside in their t-shirts to see what negative temperatures really feel like and I kept freaking out making them come back in and bundle up.
At least I know they will be cozy and snug at school today.
It has to be above 10 degrees to play outside- SCHOOL RULE.
I just wonder what the school would have done in California if it ever got close to 10 degrees.
It is just so funny the differences.
I have realized that I really never got what "winter" was all about. I mean, I always knew it was a cold season and that there was snow and that other people got to wear cute scarves and boots, but I never really got all the little things that go along with it.
For example, extremely dry and cracked hands. My fingertips started getting little cracks in them last week and they really hurt.
So this is one of my new favorite things-
Gloves and some Neutrogena hand cream and my hands are feeling lovely again.
By the way, here are my very comfy and warm Rocket Dog boots that I found on Overstock.com. I love them. They are pictured here with a very small portion of my new Joe Jeans, Chelsea style. I found that the Chelsea had the skinny leg, but fit me better than The Skinny Honey Booty.
I was very excited to get them for half price at an outlet store just before we left on our trip.
Little Bear has his own boots too and I love them.
They are made by Robeez and stay on his feet.
Okay, forgive my boot tangent, back to the cold.
It really is cold, but still not completely unbearable. I mean, I still went to the grocery store this morning and loaded my car in negative temperatures.
I am learning that it is probably bearable until either the wind starts blowing or the heater goes out.
Otherwise, it is do-able.
One of my favorite things that helps me survive the cold is a feature on my 2009 Suburban that my dad found and delivered to me from his town of Spearfish.
We have a fish theme going.
We got a great price on this used suburban and it only had 10.000 miles on it.
I can't even tell you how excited I am to be driving this baby.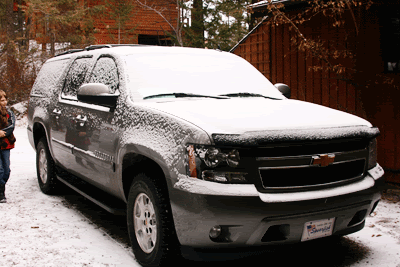 Okay, back to feature I love about it.
It has the remote starter.
For all my non-winter dwelling friends, a remote starter is a button you push on your remote which starts the car. Not only does it start the car, it also turns the heater on full blast.
So the car is warm and cozy by the time you get in.
In this cold, there is one thing that I am most assuredly going to have to learn how to do- start a fire in our country stoves.
I just can't do it yet.
The other day I tried to do the newspaper and the kindling, determined to be able to start my own fire. Finally, I got frustrated and sprayed the whole thing with lighter fluid and I still could not get it going.
During the mouse incident, I texted Hottie Husband about an additional mouse that I saw run under the fridge. He so sweetly replied to - get a stick and beat it and become a real mountain woman. Yes, that's my man. I kindly replied that I was a failure as a mountain woman because I could not even get a fire going with lighter fluid!!! There was no way I was catching a mouse!
Luckily, I have boys who happily took the mice outside when they got caught in the traps. Ewwwwww!
Lastly, here is by far my favorite thing about the cold-
watching this guy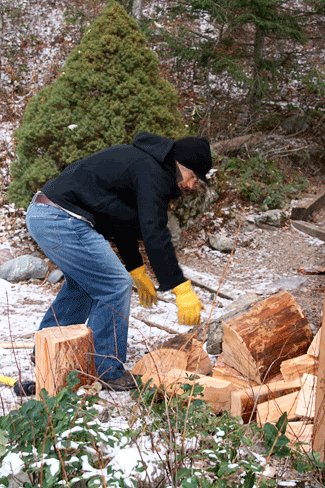 be a rugged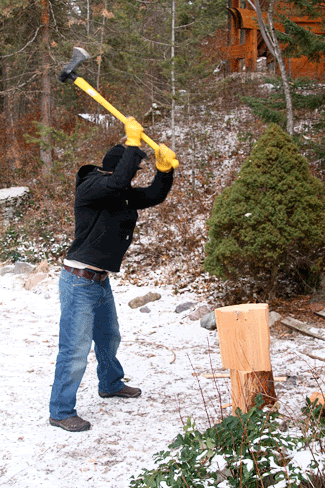 ax wielding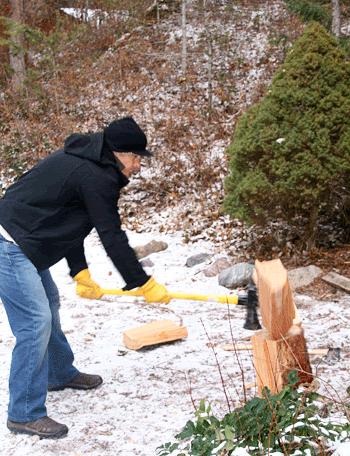 mountain man.