Yesterday we had the very exciting outing of cutting down our own Christmas Tree for the first time. We are used to paying over $100.00 at the local YMCA to buy our tree, so the idea of buying a permit for $5 and cutting down our own was very appealing.
The kids thought that this was very cool!
We went to a local store to buy our permit, where they gave us directions where to go to cut our tree. It had to be in a national forest. We then listened to carols in the car and drove down a lovely road to an area where beautiful trees abounded. I took out the hot chocolate and snacks I had prepared and we walked through the quiet forest with our hot chocolate searching for the perfect tree. We studied them all carefully, looking for the perfect height and density.
Then, we found the perfect tree!
We carefully cut it down and carried it to the car.
I was delighted because I was able to manage the baby and take pictures at the same time.
HA! HA! HA! HA! HA!
That was my idyllic version of how it would happen.
Here's how it really went down.
We planned on picking up the boys from school, buying our permit and then going to get our tree. This was a fine plan, except that the boys didn't get to the car until 3:40pm and Hottie Husband had to be at the fire station at 5:30pm and needed to eat before he got there. So, from the beginning we felt rushed. We found out that we needed to get our tree permit at the local gas station. HH went in to buy the permit and asked the clerk where trees could be cut down. She had NO IDEA. We now had a permit with no inkling of where to go. So we headed into town...
Isn't it just lovely!
... and went into the local hardware store to buy a saw.
HH already has a saw but it, of course, could not be located when we needed it.
He asked the clerk at the hardware store if she knew where we could cut down a tree.
She said- YOU can't just go cut down a tree!
Luckily, a man in line behind HH, said- YES you can!
He told HH where we could go.
We did have a pretty drive, but I didn't make hot chocolate and didn't bring snacks like in my idyllic version, so the kids were getting hungry. Also, the baby woke up and needed to eat just as we found the spot on the side of the road to pick out our tree. Time was running out so it was more like- hurry up and find a tree!!!!
Here the boys are searching for one
while I stressed out about whether to feed my screaming hungry baby and miss taking pictures of this first event in our family
because of course we couldn't feed baby first and then cut tree because we had no time.
Pictures won out, but not for long.
Here, we have selected this rather tall tree.
It took no time to saw it down.
The kids all got the chance to saw a bit.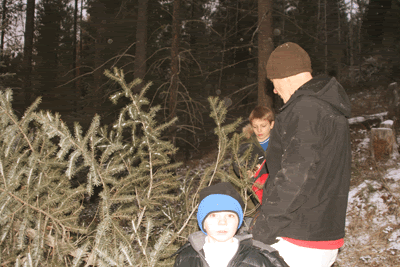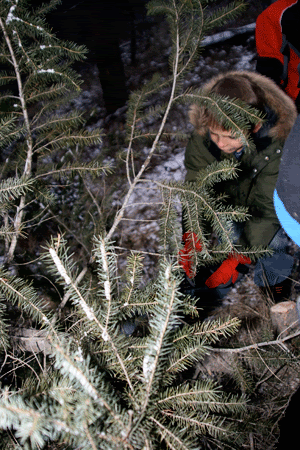 I took these pics and then ran back to the car (it wasn't far away) to feed Little Bear.
This picture was taken out of the window, baby attached.
We strapped our tree to the car and headed home.
HH put the tree on the back deck where it still sits
because he hasn't had a minute to put in on the stand.
It wasn't how I pictured it would be, but it was still great fun and I am so excited to decorate our truly freshly cut tree.
As soon as we have time to bring it in the house!