Tonight there was an Art Exihibit at the
elementary school.
I used to be an art docent at our elementary school in California and was part of starting a night like this there.
We displayed a piece of mounted artwork created by each child in the auditorium, had musicians playing for ambiance, and sold art supplies.
So, I was happily surprised to find out that the school here in Montana had an
Art Night too.
Who knew it was so popular?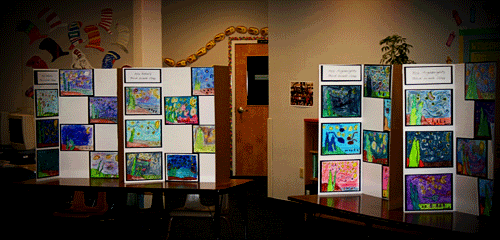 Here, there were a few differences and I couldn't help but compare.
They had the art displayed throughout the school.
They also had each grade level create a piece of art that was similar to a work by
one of The Masters.
For example...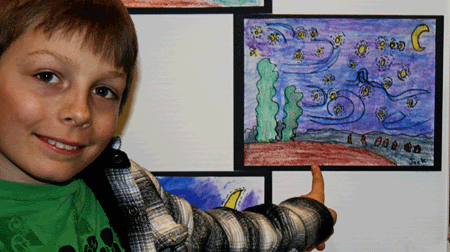 Can you guess what piece Jackie Boy was imitating here?
I was happy that I guessed it right away.
Mister Luke's grade learned about another artist-
can you guess?
Of course you artsy people can.
Who doesn't love the French Impressionists?
I missed having the music tonight and everyone gathering in one room, but I loved the artwork the kids produced and they had an even better fundraising idea than selling art supplies.
They work with
Kids Kreations
, a fundraising company that sells things like mouse pads, coffee cups, jewelry, notepads, etc. with your child's artwork printed on it.
Fabulous idea in my opinion.
I can't help but want to order from them, knowing I will have an artwork keepsake and will raise money for the school at the same time.
Here is my own artwork from the night.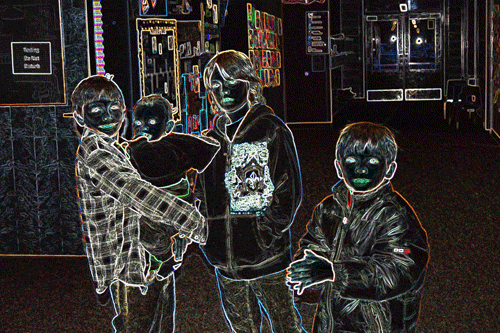 My "Neon Boyz" at Art Night!
What do you think is the best fundraising idea for schools?