Our Spring Break was lovely.
It was what we needed.
A break from the cold.
Some soaking up of sun...
and some soaking up of family and friends.
A lot happened.
Here is the first leg of it.
Some crazy person thought it would be a good idea to drive for two straight days in the car with four boys, then fly the very next morning out of LAX to Maui.
Being in the car that long sadly drove Little Bear to drink!
He has still not completely recovered, but it now suffering from
post car-seat traumatic stress disorder which involves screaming and wrestling me every time I try to put him in his car seat.
Movies and the DS helped the other boys cope quite well.
Our first day was extremely long and Hottie Husband and I thought we might go completely mad if we heard the Lady Antebellum song one more time-
It's a quarter after one and I'm all alone and I neeeeeeed you noooowwwww...
So, we turned over to talk radio and listened to a little Dr. Laura. She said something I won't forget to one of her callers. The caller was talking about taking kids to a relatives house who could be verbally abusive and asking if she should go to maintain peace in the family. Dr. Laura said-
Sometimes we think that keeping the peace and avoiding confrontation is the good and right thing to do. But, it is not. Rather, standing between evil and the innocent is what is right.
Standing between evil and the innocent...
That night we slept in a Best Western in the tiny dot on the map of Fillmore, Utah. We hadn't brought a crib, thinking it would be silly to pay to fly it to Maui and back. The hotel had one there and I had forgotten about this one traveling night where we might need one.
My mom has one at her house.
This not so great Best Western didn't have one. Little Bear lay in bed with us and did not know what we were doing. He is accustomed to sleeping in his own crib. I nursed him, I walked him around the room. It was 1am. I was tired. I got back into bed with him and finally said to him-
Daddy go night, night. Mommy go night, night. Little Bear go night night.
He understood. He put his head down on the bed and his little bottom in the air. Then popped back up and gave Hottie Husband a hundred kisses goodnight. Then me. Then put his head down and then more and more kisses. We were tired, but laughing at this sweet boy of ours. None of us got much sleep.
When he woke up, I took him into the bathroom with me so HH could sleep a little longer. I put him in the tub while I showered. I couldn't adjust the shower head at all. The water shot straight at his face. I stood in front of the water the whole time so he would not get pummeled.
Then suddenly the water turned scalding hot. Normally, I would have moved out of the way and turned the water off or adjusted the shower head. But I couldn't. The baby was there.
Instead I had to stand there, water scalding my head, protecting my child, while I groped for the faucet to turn it off. And do you know what came to my mind?
Standing between evil and the innocent...
That's what it feels like. You get battered with the heat of it so that the innocent feel none of it. You do it because you are stronger and can take it. You do it because of love.
We made it back on the road, coffee in hand.
I know you are wondering if I got what I had been dreaming about...
I didn't really let him eat it.
I
We stopped in Las Vegas.
It was delicious.
And do you know another thing I love about In-N-Out.
This-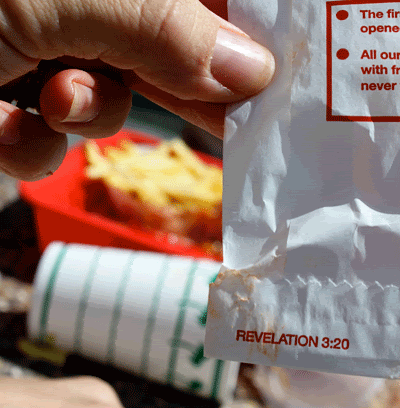 I wonder how much longer those will be on their products.

We made it in time to play for a little bit before our flight the next morning.



We made it in time to love up on Great-Grandma Betty.