I just have to show you this boy.
Who melts me.
Who dances like Axel Rose.
You know, that snakey side to side shimmy. He does that. And it is so funny.
Who gives high fives and knucks.
Who says, "I need yew, I need yew."
Who jaunts into child care where we ski and says, "Hi."
Who sleeps like this
in this
(an organic Kanoe hammock)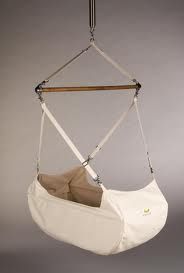 while we ski.
Have you seen these before? They are fantastic, cozy little spaces.
And he actually takes long naps in them which makes me feel less guilty for leaving him which makes my happily promote them.
But really,
I just wanted to show you that sweet face.
See the lips?
Those are the lips on the ultrasound that had me convinced he was a girl.
But, now I look at the two photos...and well...
he's all boy.
And he is perfect.