I turned 38 a few days ago.
Thirty-eight is a fat number, round and curvy.
Thirty-seven felt skinnier, less developed.
I remember thinking 31 seemed better than 30 for the same reason.
Silly, I know.
This was the first birthday in our new state of Montana.
My childhood birthdays and even my grown-up birthdays have always been spent with family, food cooking on the barbecue and hanging out by the pool.
It was raining and cold this year on my birthday in Montana.
I kept saying that I had never had my birthday in the winter before.
Our friends Pete and Laura invited us over and created a beautiful day for us.
While it rained, we sat by the fire and played The New Yorker game.
The boys had nerf gun wars and built legos and later had squirt gun wars.
Then, the sun came out just in time for dinner.
We sat outside and had this lovely meal.
Pasta with an amazing bolognese sauce, arugula salad with a lemon vinaigrette, and kalamata olive bread.
Laura is an amazing cook and I love Italian food.
YUM!
Then, we had a fantastic birthday cake, made from scratch by Hottie Husband himself!
Isn't it lovely too?
I just love a pretty cake.
Here Laura and I are full of big smiles.
We finished off our day with the two of us hula hooping on the grass.
Sorry, no photo of that one.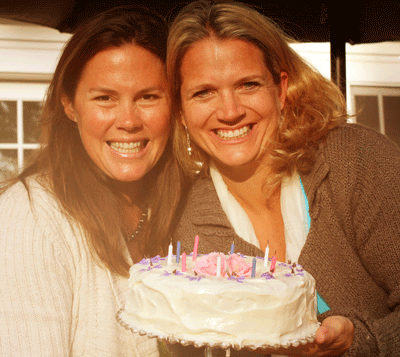 I realized this year that I don't feel old, but I do have this sense of truly being a grown-up now.
For a long time, I felt like I was just pretending.
Perhaps it has come from finally finishing our dream home and having the courage to let it go.
Or from being brave enough to pack a u-haul with the man I love and take my children to a whole new place where we didn't know a soul.
Or perhaps it is from the knowledge that when I have courage, am brave and trust, then there is a provision.
Love.
Friends.
Life.
Family.
Joy.